English below
INTERNATIONALER AUFRUF ZUR SOLIDARITÄT / Freiheit für die Röszke 11!
Internationale Solidaritätskampagne für die Beschuldigten im Röszke-11-Verfahren!
Solidaritäts-Demonstration: 28. Oktober 2016 // 19.00 Uhr // Unter den Linden 73 // Berlin
Mehr Infos hier.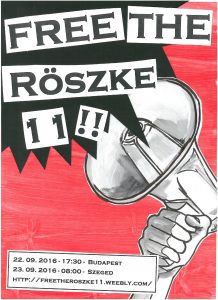 Anfang Juli wurden zehn der Beschuldigten im Rözske-Verfahren, die letztes Jahr im September am Grenzübergang Röszke/Horgos [https://roszke11.wordpress.com/2016/06/06/what-really-happened-at-roszke-report-video/] festgenommen wurden, vom Gericht in Szeged/ Ungarn wegen "illegalem Grenzübertritt" und "Teilnahme an einem Massenprotest" für schuldig befunden. Eine Person, Ahmed H., der wegen "Terrorismus" angeklagt wird, wartet immer noch auf seinen nächsten Gerichtstermin der nun auf den 28. oktober verschoben wurde und in Szeged stattfindet.
Im September 2015 wurde die ungarische Grenze[https://roszke11.wordpress.com/2016/06/06/another-video-from-roszke/] zu Serbien gewaltvoll geschlossen und von einemTag auf den anderen wurde es – nach dem Strafgesetz – illegal, die Grenze zu überqueren. Der Zaun, der bis jetzt das Recht auf Bewegungsfreiheit und Asyl grob verletzt, wurde errichtet. Während die Regierung am Tag zuvor noch selbst Menschen inBussen nach Österreich transportierte, setzte die Polizei am 16. September Tränengas und Wasserwerfer gegen die Menschen ein, die ebenfalls die Grenzen überqueren wollten. Aus dem Protest heraus verhafteten sie willkürlich die elf Beschuldigten unter den Leuten, die nicht schnell genug dem Angriff der Anti-Terror-Einheit der Polizei entkommen konnten. Unter ihnen sind sehr junge und sehr alte Menschen, kranke Personen und eine Person im Rollstuhl.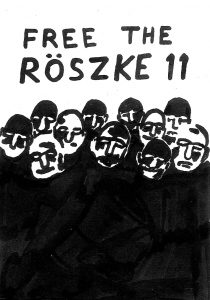 Nach beinahe zehn Monaten in Haft unter furchtbaren Bedinungen, nach der Verfälschung von Übersetzungen und der voreingenommenen Ablehnung,wichtigesVideomaterial und denbrutalen Einsatz von Tränengas zu berücksichtigen, wurden die Angeklagtenfür schuldig befunden – während internationale Medien dem Verfahren keine Aufmerksamkeit schenkten. Sie wurden zu ein bis drei Jahren Gefängnisstrafe verurteilt und für bis zu zehn Jahre aus Ungarn ausgewiesen. Gleichzeitig sieht sich einer der der elf, Ahmed H. – der des Terrorismus beschuldigt wird, weil er Steine geworfen haben soll – mit einer Gefängnisstrafe von bis zu zwanzig Jahren konfrontiert. Die Entscheidung für die zehn Verurteilten ist noch nicht endgültig, da der Staatsanwalt angekündigt hat, in Revision für eine härtere Bestrafung zu gehen. Die Beschuldigten und ihre Verteidiger haben ebenso Einspruch gegen das Urteil eingelegt. Auf Grundlage der ungarischen Gesetze befindet sich das Verfahren nun in der zweiten gerichtlichen Ebene in Szeged.
Während die meisten der Beschuldigten bereits ihre Gefängnisstrafen, zu denen sie verurteilt wurden, abgesessen haben und sich nun in offenen Lagern oder noch in Haft, aus der sie bald entlassen werden sollen, befinden oder Ungarn bereits verlassen haben, trifft dies auf zwei Personen nicht zu: Yamen A., der zu drei Jahren Gefängnishaft in Szeged verurteilt wurde, und Ahmed H., der weiterhin auf sein Urteil in einem Budapester Gefängnis wartet, befinden sich beide in langfristiger physischer Haft. Während der Hauptfokus der Kampagne momentan auf der sofortigen Freiheit von Ahmed H. (20 Jahre alt) und Yamen A. liegt, ist es wichtig zu berücksichtigen, wie die Kriminalisierung und Stigmatisierung, die massiven psychologischen Traumata und die Bedrohung der Ausweisung und der Trennung von ihren Familien in der EU, auch für die Anderen nach der Haftentlassung anhalten. Die Leben der elf Personen werden dazu benutzt, ein Exempel zu statuieren, mit dem der ungarische Staat eine Atmosphäre der Angst schaffen will und Bewegungsfreiheit an sich kriminalisiert.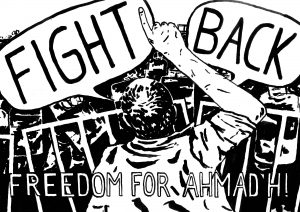 Das Röszke-Verfahren zeigt die Realität eines Systems, in dem staatliche und polizeiliche Gewalt niemals in Frage gestellt wird, in der Geld und Güter sich frei bewegen können, Menschen jedoch nicht. Die Verfahren geschehen in einem vermehrt repressiven Umfeld. Sie finden in einem Kontext der Militarisierung der europäischen Grenzen statt, in dem Menschen immer wieder gewaltvoll [https://noborderserbia.wordpress.com/2016/08/08/testimonybrutal-police-violence-on-the-serbian-hungarian-border/] an der serbisch-ungarischen Grenze zurück geschoben werden. Sie werden von paramilitärischen Gruppen ausgeraubt und zusammengeschlagen, während ungarische Bürgermeister stolz Bilder von Personen posten, die in entmenschlichenden Positionen festgebunden sind, bevor sie nach Serbien abgeschoben werden. Die Verfahren finden in einem Kontext statt, in dem rechtliche Rahmenbedingungen so geformt werden, dass diese Gewalt juristisch legitimiert wird, in einem Umfeld voller rassistischer Propaganda. In Ungarn wird ein Referendum darüber abgehalten (am 2. Oktober), das ungarische Staatsbürger*innen symbolisch zwischen dem aufgezwungenen Umverteilungsplan der EU und der 'ungarischen Lösung', Menschen komplett durch Zäune auszugrenzen, wählen lässt.
Dieser Fall ist einer von vielen schrecklichen Fällen in der anhaltenden europäischen Migrationspolitik. Er ist nicht nur entscheidend, weil er die Absurdität europäischer Migrationspolitik, die Repression des EU Grenzregimes und die unterdrückende Politik, die hinter der 'unschuldigen' Idee staatlicher Institutionen liegt, besonders gut offen legt. Die Verfahren sind auch wichtig, weil diese repressiven Politiken auf massiven Kosten und Leben Einzelner weiter entwickelt werden.
*Wir laden alle dazu ein, Individuen und Kollektive, sich an dieser Kampagne zu beteiligen und sie in allen möglichen Formen zu unterstützen. Verbreitet Informationen, beobachtet das Verfahren, fertigt Grafiken, Poster, Sticker und Videos an, organisiert Solidaritätsaktionen!*
*Lasst uns gemeinsam gegen die Repression von Grenzen und Staaten kämpfen!*
**
*Freiheit für die Röszke 11! *
*Freiheit für Ahmed H., Yamen A., Kamel J. und Farouk A.! *
*FREIHEIT FÜR **ALLE**EINGESPERRTEN GEFLÜCHTETEN IN UNGARN **UND SONSTWO!
*
Für mehr Infos über die aktuelle Situation lest den Hintergrundartikel zum Prozess von NoBorderSerbia hier und für die Kampagne schaut auf die Homepage: http://freetheroszke11.weebly.com* und in folgendes Video:
---
English:
International call for solidarity/ Freedom for the Röszke 11
At beginning of July, 10 of the accused in the Röszke Trial who were arrested in September last year at Röszke/ Horgos bordercrossing were found guilty for "illegal border crossing" and "participation in a mass riot" by the court in Szeged, Hungary.  One, Ahmed H., who is accused for "terrorism", is still waiting for his next trial in September.
In 2015 September, was the time when the Hungarian border fence to Serbia was closed violently and it became from one day to the other illegal – by criminal law – to cross. The fence, which until now grossly violates people's right to move and seek asylum was put in place. So, while the government was transporting people themselves to Austria by busses the day before, on September 16th the police was using tear gas and water cannons against people who wanted to do so. Out of the place of the protest, they arrested the 11 accused completely randomly, among those people who could not leave that quickly when the counter-terrorist police force attacked the demonstration. Among them are very young and very old people, sick people, a person in a wheelchair.
After nearly 10 month of detention, in horrible conditions, after the falsification of translations and the biased refusal to take into consideration important video material and the brutal use of tear gas of the police, the accused were found guilty – while the  international media didn't pay attention and covered the trial 10 of the accused got prison sentences between 1 and 3 years and expulsion from Hungary for up to 10 years, while one, Ahmed H., accused for terrorism – for throwing stones – is facing up to 20 years of imprisonmen. the decision is not the final one,  the prosecutor announced to go into revision and demanded harder punishment. The accused and their defense lawyers also appealed against the decision. So due to Hungarian laws the case is escalated to second level court in Szeged.
While most of the accused had already served the prison time they have been sentenced to and are now either in open camps, soon to be released from detention or have left Hungary already, for four this is not the case: Yamen A., who was sentenced to 3 years of prison in Szeged, and Ahmed H., still waiting for his verdict in prison in Budapest, are still kept in long-term physical detention. While the main focus of the campaign at the moment is on the immediate freedom of the Ahmad H. (20 years) and Yamen A. (3 years) it's also important to  consider how the criminalization and the stigmata, the massive psychological trauma, the threat of expulsion separating them from their families in the EU, is something that prolongs, even after the physical release. The lives of the 11 people are used to state an example, with which the Hungarian state wants to create an atmosphere of fear and criminalize movement as such.
The Röszke trial is revealing the reality of a system in which state and police violence is never put in question, and in which money and goods can move freely but not people. The trials are happening in an increasingly repressive context. They are happening in a context of militarized European borders, in which people get pushed back multiple times violently at the Serbian-Hungarian border, robbed and beaten up by paramilitary groups, while Hungarian majors proudly post pictures of people at the border tied up in dehumanizing poses before they get pushed back to Serbia. They are happening in a context in which the legal frameworks get shaped in a way that such violence is legitimized and in a context full of racist propaganda, in which theHungary holds a referendum (on October 2nd), symbolically letting Hungarian citizens chose between the forced relocation scheme of the EU and the 'Hungarian solution' of fencing off people completely.
This case is one of many horrible cases within the ongoing European migration policy. But it is crucial not only because it reveals the absurdity of European politics of migration, the repression of the EU border regime and the oppressive politics which lie behind the 'innocent' idea of state institutions particularly well, but also because those repressive politics are also this time pushed forward at the massive cost of individuals lives.
We invite everybody, individuals and collectives, to join and support this campaign in all possible ways. Spread information, make graphics, posters, stickers and videos and organize solidarity actions! Let's unite and fight the repression of borders and states!
For more informations visit: http://freetheroszke11.weebly.com/